September 23rd - October 1st 2023
Dorset CAN coordinates the Dorset Greener Homes events across Dorset to showcase ideas for greener living. For two weekends annually there's an opportunity to visit homes - plus gardens, allotments, churches, schools, village halls - venues where steps have been taken to save energy and avoid using fossil fuels as well as to promote biodiversity.
Homes Open by Appointment All Year Round
Some of our homes are also open all year round by appointment - use the map on the Listings page to filter and find homes that you can arrange to visit at your convenience outside of the event dates.
We have also created a few Short Films of a selection of houses with varying features, so if you can't make any of the open days you can view some of the houses and their associated features here.
Get an inside peek at the systems and processes involved as the homeowners walk you through what features they have installed and how they work:
The focus is on low cost solutions to cut energy use, reduce waste and save money, as well as looking after nature in your garden. Alongside that are opportunities to view low carbon technologies like solar panels, heat pumps and electric cars.
"We really want people in different kinds of homes to join in – including rented and those run by housing associations as well as privately owned. You may have some great ideas for insulating your home, or saving energy in other ways which add up to a decent cost saving at this time of high fuel bills" said Sam Wilberforce, one of the organisers.
"Maybe you've got a wildlife garden full of insects, a sustainable vegetable garden or creative ways of saving water – we're looking for ideas that other people can use in their own homes to benefit our environment as well as saving money, which many of these ideas will do".
The event has been running in West Dorset for 9 years and 2023 will be the third year it will reach out across Dorset.
The big event opening all these homes takes place 23 September - 1 October, but if you can't wait until then, we may be able to arrange a bespoke visit to a particular home - write to dorsetgreenerhomes@gmail.com. Details of all the homes this year will be added to our website over the next couple of months - please do check back in the weeks leading up to the event for confirmed houses, t of opening and more detailed information.
This event is sponsored by Dorset Community Energy, the organisation behind twenty-four solar installations, one hundred and ninety-eight shareholders, and 1500kW of solar photovoltaic panels on schools, community buildings and hospitals in Dorset.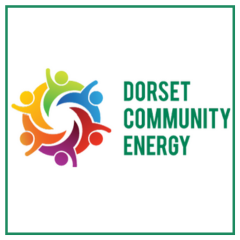 We are also delighted to announce that we have been awarded a grant from the Wessex Water Foundation Environment Fund via Dorset Community Foundation. This grant will support our work to include videos of some of the open homes. The Environment Fund supports charitable and community activities across the region that have a positive impact on the local environment. The fund is part of the Wessex Water Foundation which provides dedicated funding for projects across the Wessex Water region every year.