The Great Big Dorset Hedge (GBDH) is a campaign to facilitate the restoration and extension of hedgerows the length and breadth of Dorset.
For the project to happen we need teams of volunteers to help survey the hedgerows of Dorset and then to get involved in planting and other activities as the project evolves.
Watch our 6 minute film by John Calder for more guidance and information about volunteering and surveying.
To help us at whatever level you can offer, just Volunteer Here
Our Plan: An overview
To survey and assess the condition of the vast network of Dorset hedgerows to determine if they can be improved by, for example, hedge laying, planting up gaps, leaving of occasional standards or slight changes to maintenance schedules.

To identify where new areas of hedgerow can be planted.

To create an understanding within the general community of what a healthy hedgerow looks like, the value of hedgerows as a key habitat for wildlife and their importance in providing protection against the effects of climate change.

To map the survey results and determine recommendations for the hedgerows. Connections can be made with Landowners in the hope of restoration and planting projects.

To map the progress as hedgerows are restored and new ones planted.
Our starting point:
Our initial plans are to survey the major trails of Dorset such as the Jubilee Trail, the Wessex Ridgeway, the Stour Valley Way, the Brit Valley Trail, the Wareham Forest Way and the Purbeck Way. Where other connections can be made with landowners we are keen to survey all the hedgerows of Dorset.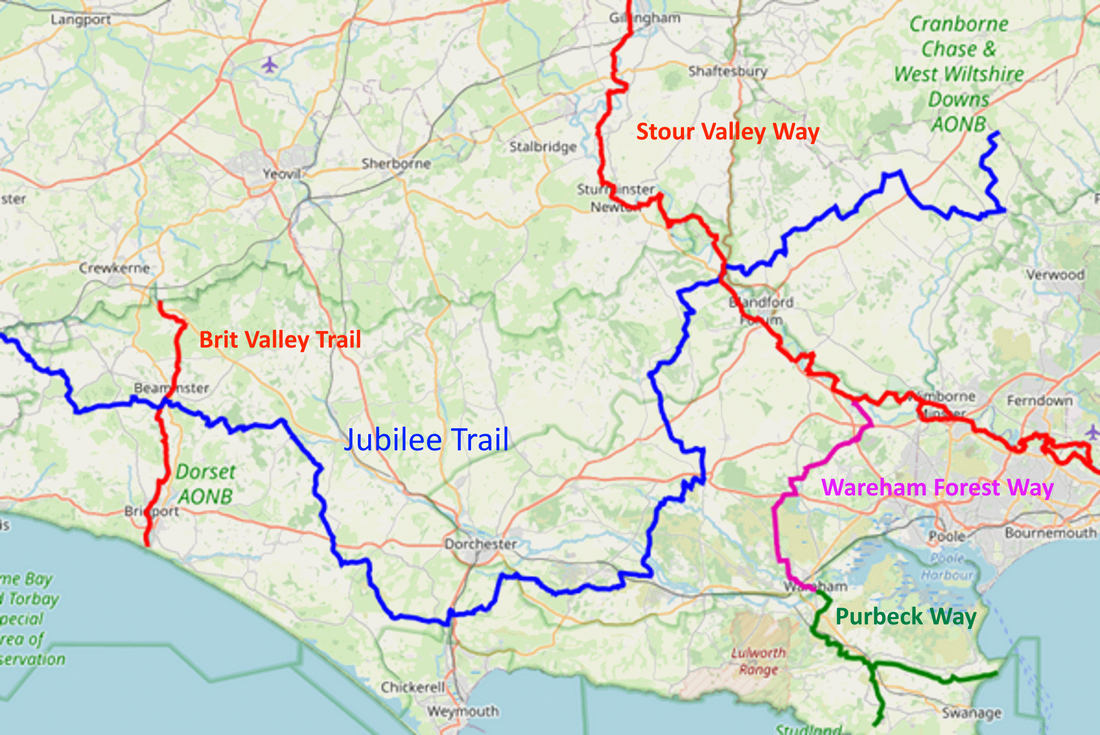 Our vision:
It may take a generation for it to be achieved but we can imagine a network of connected, well-managed hedgerows, stretching across Dorset, north to south and east to west, so that every community has an opportunity to get involved.
By helping to restore the hedgerow network of Dorset we aim to create vital habitat connections, linking fragmented ecosystems including rural to urban areas where gardens are a vital refuge area for wildlife and a source of biodiversity. This is why we are calling it the Great Big Dorset Hedge.
We want to catch the imagination of people across Dorset, so the campaign takes shape and grows alongside the hedgerow. Imagine gaps or lost connections in a being planted up, in many cases by local tree planting groups with the young and old working side by side, connected by a common desire to see more hedges and trees in Dorset.
We hope the Great Big Dorset Hedge will helping people to feel more connected with the places where they live and work, with nature, and with their communities through a shared scheme that actively helps nature recovery.

Dorset Area of Outstanding Natural Beauty (AONB) is a kind sponsor of The Great Big Dorset Hedge Project.
The project has certainly caught the attention of the media, and while some of the coverage has been an interesting interpretation of the project, we are pleased that so many are starting to realise the importance of hedgerows. Find some recent articles and interviews below;